Kanyakumari and Tirunelveli dams see heavy inflow after rain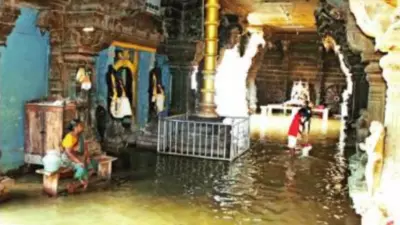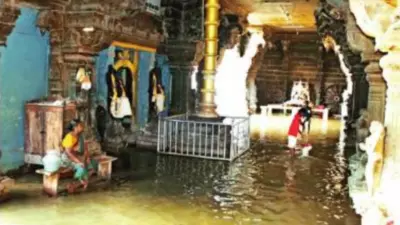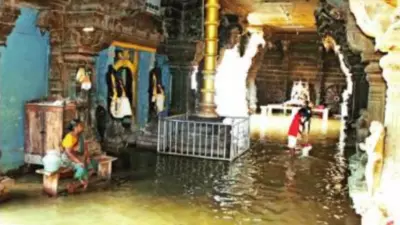 Normalcy was affected in areas on the banks of Tamirabarani, Kodayar, Burliyar and Palaiyaru in Kanyakumari district as the rivers were flooded by the heavy rain that lashed the southernmost district till 11 am on Sunday. District collector M Arvind told TOI that 380 people were rescued from low-lying areas in Kuzhithurai, Thovalai and Killiyoor and taken to shelters.
Kanyakumari recorded an average rainfall of 89.8 mm in 24 hours till 8am on Sunday. Officials said Kodayar dam received the highest rainfall of 336 mm, followed by Pechiparai (216.6 mm), Chittar I (204.2 mm), Chittar II (194.6 mm), Balamore (152.2 mm), Perunchani (113 mm), Puthen Dam (110.4 mm) and Surulacode (102.4 mm).
Though only about 28,000 cusecs was the highest combined discharge from Pechiparai, Perunchani and Chittar I and II reservoirs into Thamirabarani on Saturday evening the water level climbed to 43,891 cusecs on Sunday due to the heavy inflow.
The rain claimed one life and search is on for another who is missing. At Kadiyapattinam a man bathing around 11am on Saturday drowned while at Keeriparai, a man was washed away by the flooded river.
The rains damaged three huts fully in Agastheeswaram taluk. Fire and rescue services personnel deployed five inflated boats and 75 personnel to rescue around 90 people stranded in low-lying areas in and around Kuzhithurai. Police with the help of fishing boats rescued eight people near Virivilai bridge.
An inflated boat with fire services personnel capsized often due to the force of the water at Pallikkal. "The rescue personnel reached safety by clinging on to trees," district fire officer (DFO) B Saravanababu said. He added that the water level receded by two feet around 7pm on Sunday.
All the Courtallam falls in Tenkasi district, Thiruparappu falls in Kanyakumari district and Thalaiyanai in Tirunelveli district were flooded. In Tirunelveli Papanasam recorded the highest rainfall of 275 mm in the district in a day, followed by Manimuthar (102.8 mm) and Ambasamudram (75 mm).
Water level in the 143-foot-tall Papanasam dam climbed 23 feet in a day to 131.3 feet on Sunday morning. The major dam with a capacity of 5,500 MCFT had an average inflow of 20,862 cusecs in 24 hours till 8am on Sunday. In the 156-foot-tall Servalar dam, the level increased 22.11 feet.