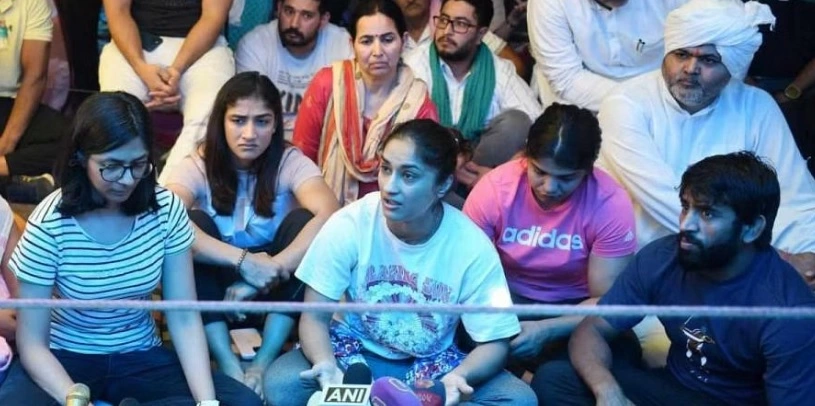 "Take it (medals) all away. We have been humiliated so much. We are fighting for our respect but we are being crushed under their feet. Does all men have the right to abuse women?," said Vinesh.
NEW DELHI: Hurt by the boorish behaviour of the Delhi Police, protesting wrestlers on Thursday threatened to return their medals and awards including the Padma Shri to the government, saying these honours serve no purpose if they have to endure such humiliation.
Around 11 pm on Wednesday, a scuffle broke out when the wrestlers were bringing in folding beds for sleeping and the on-duty police personnel began enquiring about that as rules do not permit bringing in such things at the protest site.
Vinesh Phogat and Sakshi Malik had claimed that they were abused and pushed by male police officers, leaving them in tears.
Two wrestlers, including Sangeeta Phogat's brother Dushyant, suffered injuries. "If this is how the wrestlers will be treated, what will we do with the medals? Rather we will live an ordinary life and return all the medals and awards to the Indian government," Bajrang, an Olympic bronze medallist, told reporters on Thursday morning.
Vinesh, Sakshi and Bajrang are all winners of Khel Ratna, the country's highest sporting honour. Skashi (2017) and Bajrang (2019) are also recipients of the Padma Shri, the fourth-highest civilian honour.
"When police are pushing us, abusing us, misbehaving then they don't see that we are Padma Shri awardee, and not only me, there is Sakshi (Malik) also," he said referring to the Rio Olympics bronze medallist.
"They are misbehaving with us. Women and daughters are sitting on the streets, begging for kindness but no one is bothered about getting justice."
The wrestlers resumed their protest on April 23, demanding the arrest of WFI chief and BJP MP Brij Bhushan Sharan Singh for the alleged sexual harassment of seven women grapplers including a minor.
The matter is Supreme Court and two FIRs have also been lodged by the Delhi police against the WFI chief, who has denied all charges and claimed that the protest was politically motivated.
"Take it (medals) all away. We have been humiliated so much. We are fighting for our respect but we are being crushed under their feet. Does all men have the right to abuse women?," said Vinesh, who received Khel Ratna in 2020.
"We will return all our medals, even give our life but at least get us justice," she added.
The scuffle broke out when the protesters were trying to get extra mattresses and wooden benches to the protest site for their night stay since the rain had left old mattresses wet and soggy.
"The policeman started pushing me, shoving me and pulling my hand. He also abused me. There was no women constable at that time. He was aggressive. There was another policeman who was drunk," Vinesh said.
Delhi Police has claimed that AAP leader Somnath Bharti had brought the folding beds.
"We had ordered the beds and not Somnath Bharati. And even if he had brought it, don't we even have the right to sleep? Were we committing a crime by bringing beds, was there a bomb or weapons? Their (Delhi Police) behaviour was very aggressive," Vinesh added.
Bajrang said, "I want to know why everything is being related to politics, sometimes Aam Aadmi party, Congress, sometimes BJP. The matter is related to women, but the nation is being misled by associating it with political parties."
"The Police is favouring Brij Bhushan. We are being abused after the FIR was lodged. Wrestlers are being divided on the basis of caste."
"I just want to request the government if you can rise above politics and give justice to protesting wrestlers then the entire country will be grateful to you."
Asked if the protest has been hijacked by political parties, Vinesh said, "Listen, if this is political, please get the Prime Minister to talk to us. Ask the home minister to call us. Get us justice. We are putting our careers and our lives at stake," she said with folded hands.
Delhi Commission for Women (DCW) Swati Maliwal was also sitting with the protesting wrestlers.