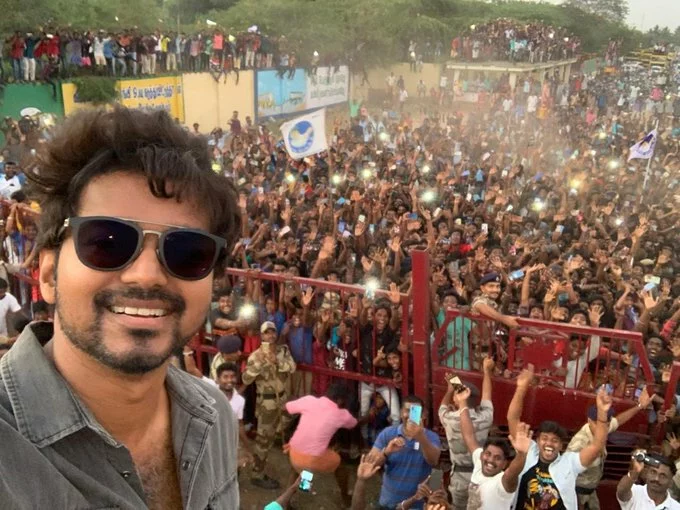 Candidates from the actor Vijay fan's club won 115 of the 169 seats they contested, striking a success rate of 68%.
Tamil superstar Vijay's political entry has been speculated widely ever since long. His social appearances, statements – both on and off the screen – that were politically loaded, and his presence at the most crucial events that shook the Tamil conscience, had proved to be the catalysts for such speculations.
Of late, the elections to the local bodies in the southern state have added more fuel to these speculations. Though they are just speculations currently, the Tamil electoral space could soon wake up to the fact that 'Thalapathy' Vijay, as he is known among his fans around the globe, could be gearing up to stamp his presence in Tamil Nadu's political scenario.
Actor Vijay not the first actor to try out political role
Actors have never been strangers to the political terrain of Tamil Nadu. The state had elected former actors M G Ramachandran and J Jayalalithaa as their chief ministers earlier.
Popular actors like Kamal Haasan, Vijaykanth, and Sarath Kumar are very active in the political space. Superstar Rajnikanth had been planning to make a grand entry into politics but seems to have decided against it.
The latest development assumes immense significance because the Vijay Fans Club had contested in the village panchayat elections that were held recently. The results were nothing short of remarkable.
The candidates who were part of the Vijay's Fan Club won 115 of the 169 seats they had contested, and that means a success rate of 68%. Compared to the total 27,003 local body seats in the state, this number could be small. But victory on debut is as important as the speculations that are flying around.
45 women among the winning 115
Considering that the actor had given permission to his fans club to contest the elections could mean that he is testing the waters. The fan club named All India Thalapathy Vijay Makkal Iyakkam is suddenly being spoken about in the Tamil political circles. This could be a significant development. It needs to be noted that the All India Thalapathy Vijay Makkal Iyakkam won 13 seats unopposed.
Among the winners, 45 are women, which also means that there has been representation from various sections of society. Winners also included farmers, students, traders, lab technicians and even school teachers, akin to what actor Vijay's films have portrayed.
It is being said that actor Vijay was particular that the candidates should be chosen from among educated youth. Also, he had insisted that women should be provided equal representation when candidates are selected. This seems to have paid off.
With the fans club members have made their mark, it could only be a matter of time before actor Vijay makes his official entry into the political scape of Tamil Nadu.
Tamil Nadu politics is waiting.