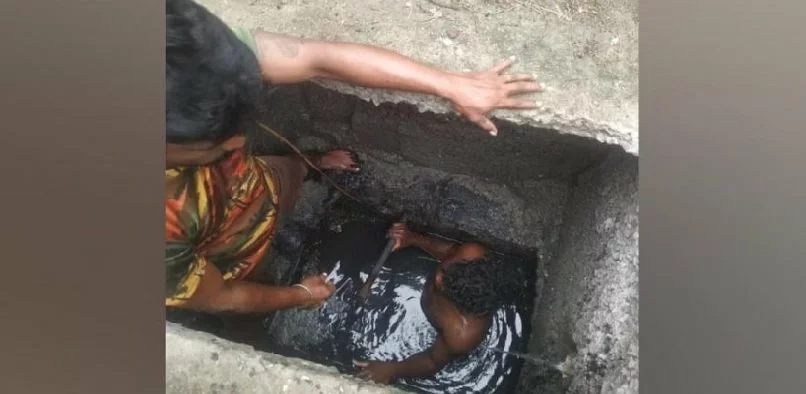 "When we asked for machinery like a compressor, the supervisor said they were not in working condition. Instead, he asked us to work only with a rod."
TIRUVARUR: A group of sanitary workers of Mannargudi municipality in Tiruvarur district alleged that they were forced to manual scavenging to clear blocks in Under Ground Drainage. This was in violation of the provision of the Manual Scavengers Act
Shocking visuals of workers getting down an underground drainage without safety gear or machines in Mannargudi municipality were shared on social media.
When contacted, one of the three workers engaged in the task told The New Indian Express, "We used to go down in drainages when it was dry to clean the soil deposited or when the sewage water was only knee deep. But on Sunday, our supervisor asked us to get down where the sewage water was stagnating far deeper. When we asked for machinery like a compressor, the supervisor said they were not in working condition. Instead, he asked us to work only with a rod."
When we protested, the supervisor said we would lose the job as we were only temporary workers. When contacted, V Narayanan, the Commissioner of Mannargudi municipality told they were outsourced workers and not municipal employees. However the workers were sensitised not to get down in the drainages, he added. When pointed out the workers were threatened with loss of job by the supervisor, the Commissioner told TNIE that an enquiry has been ordered and based on the report, action will be taken.
Meanwhile, T Murugaiyan, the district secretary of CITU urged the Government and the district administration to take action against Municipality officials who forced the workers to do manual scavenging.