The powerful father-son duo – Shri. K. Neela Marthandan and Dr. Neela Vishnu
Shri K. Neela Marthandan is the perfect example and role model for everyone with big dreams. He is the reputed chairman of Rohini College of Engineering & Technology, the best engineering college located in Anjugramam, 14 kms away from Nagercoil in the district of Kanyakumari of Tamil Nadu.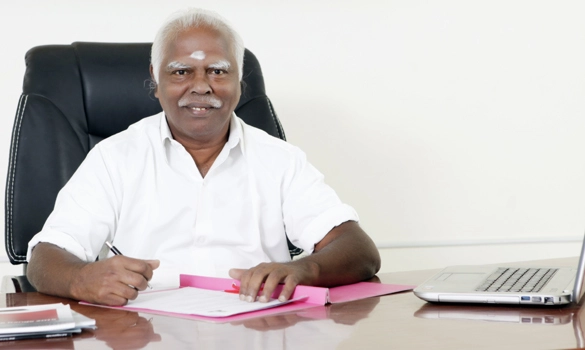 Shri K. Neela Marthandan educated his children in good schools and colleges and did everything he could to fulfill their educational needs. His son Dr. N Neela Vishnu has immense knowledge and a great business mind. With his help Shri K. Neela Marthandan started an educational trust to continue his noble work of helping the poor children to study on an even larger scale. Helping the poor and creating a strong future generation with the help of education is a dream that the father-son duo share.
With the help and intelligence of his son, Dr. N Neela Vishnu, Shri K. Neela Marthandan started Rohini College of Engineering & Technology as they both understood how important the study of science and technology . He started providing scholarships and funds to meritorious students so that money doesn't become a hurdle in the education of a deserving child.
Their father-son relation is a classic example on how achieve the vision and carry forward the good work done. The ever improving facilities and technologies of RCET College is a prime example of this. Their hard work has made it the best engineering college in Kanyakumari district with a great campus and staff.
Dr. Neela Vishnu picking up from where his father left shows the duo shares a great chemistry among them. They work as partners and Shri. Neela Marthandan shares all the experience with his son and is key for molding his son. RCET the best engineering College in Kanyakumari District, they believe not only in educating the students, but also in grooming characters, with moral and ethical values to build the nation. Since the beginning, the college has been providing world-class facilities & infrastructure in education and learning. The emphasis is on transformational leadership rather than directional leadership. They aim to establish new trends, introduce innovative training methodologies, and thus guide students towards the road to success.
This father is a great example of Revolution in the field of education.  The father son has been key in transformation education to new heights.