Tamil Nadu: Sudden downpour in Tirunelveli leaves 1 dead; many places in city inundated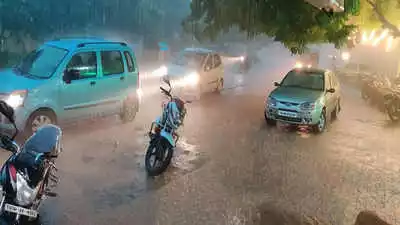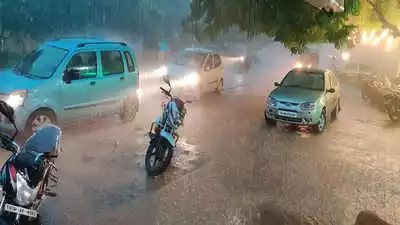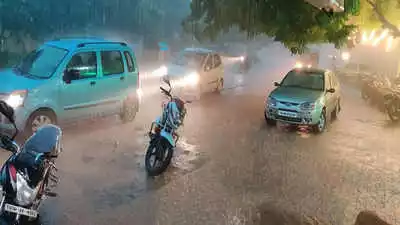 TIRUNELVELI: The low pressure in the Bay of Bengal near Chennai brought heavy rains to Tirunelveli city and to the southern districts on Wednesday evening.
Lightning along with the sudden downpour left a shepherd dead near Radhapuram dead and many places in Tirunelveli city inundated. Seven persons taking cover under a bus shelter in Seydhunganallur, Tuticorin district, swooned when a lightning struck near them.
The seven men Vannamuthu, 53, Mariselvam, 43, Ganesh, 28, Muthuvel, 18, Sakthiselvam, 18, Subramanian and Sugil were rushed to the government Tirunelveli medical college and hospital, where they were undergoing treatment. The shepherd who died was identified as A Muthu, 48, of Seelathikulam near Radhapuram. His kin who went in search of him late on Wednesday evening found him dead with burn injuries.
In Tirunelveli the downpour started between 3.30pm and 5pm at different parts of the city lashed for anywhere between one and two hours at all the places. At some places in the core city area the rain continued till night. The Manakavalam Pillai Corporation Hospital in the city was inundated as water entered the hospital building, pushing patients as well as the hospital staffs into hardships.
As the rains began at a time when students were returning home and people returning from work the flooded roads through which water was flowing caused traffic snarls that cleared only around 8 pm. Among inundated areas were the temporary bus stand near the new bus stand inundated, Samathanapuram, 
KTC Nagar
, 
Manakavalam Pillai Nagar
, 
Palayamkottai Town
 and 
Melapalayam
.
Personnel from Tirunelveli Corporation along with the police were taking efforts to let the stagnated get drained. Residents of the city said that it has been months or even years since such heavy rains lashed the city during the day time. Residents of Senthil Nagar were among those who protected electronic appliances such as washing machines and refrigerators by keeping them atop their beds as rain water mixed with drainage entered houses.
Traffic was diverted through one side of the four-lane Madurai to Kanyakumari national highway for close to half-an-hour around 8 pm as pieces of rock and mud from the hillock near Reddiarpatti at the outskirts of Tirunelveli city fell on one side of the highway, which runs through the hillock. An earthmover was engaged to clear the pile of mud and rocks and restore traffic.
With hardships on one hand, residents also enjoyed watching the downpour. Tirunelveli district collector V Vishnu declared holiday for schools and colleges in the district on Thursday. Parts of Tuticorin district and Madurai city and its periphery including Melur received heavy rains as well.