Dr. Neela Vishnu – An inspiration for students as well as entrepreneurs
Dr. Neela Vishnu, MBA, PhD, and Managing Director of Rohini College of Engineering and Technology, Tamil Nadu is a visionary with a mission to change the educational environment in Indian colleges and bring them at par with great names in the education sector. He masters the art of standing out and being unique and we can see that in his institute and everything about it.

Dr. Neela Vishnu
"The world is full of infinite possibilities and countless opportunities, but your life and career are finite, meaning you have limited time to find what you're searching for and make your mark on the world. This is your time. It's limited, so don't waste it. Find something you like to do and just do it. That's how real entrepreneurs always start", believes Dr. Neela Vishnu, MBA, PhD, and Managing Director of Rohini College of Engineering and Technology, Tamil Nadu. Dr. Vishnu is a visionary with a mission to change the educational environment in Indian colleges and bring them at par with great names in the education sector.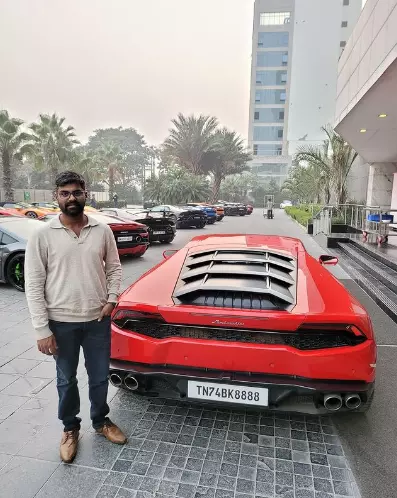 Dr. Neela Vishnu has proved it to the world with great perseverance, hard work and strong will to do something great not only for oneself but for many others one can achieve great heights. He is a person with innovative ideas and works for welfare of the students. He is a dedicated person who solely focuses in giving quality education to the students of RCET. His interest on new technology enriches the campus of RCET with new technologies.
The college was established in the year 2009 by his father Shri. K Neela Marthandan and we can't thank him enough for gifting the education field with this college. Dr. Neela Vishnu has just started his journey and we will not be surprised to see his institute's name in the top 5 colleges of the state in couple more years as he was the one who made it possible for the institute to reach at this position in such a short span of time. It takes years and generations after generations to achieve something he has achieved. This gives us more reasons to admire Dr. Neela Vishnu's great intellect and business skills.
Today, we take this platform to appreciate a very hardworking, determined and great man for everything he has done for the society especially for the younger generation who are the future of our developing nation. He has worked day and night to bring this prestigious college to its glory. He has been breaking all the stereotypes by also being among the youngest Directors of the top colleges in Tamil Nadu. He is an inspiration for everyone.
Another best thing about him is that he is the coolest director the students could ever get. He knows and understands what his staff and students like and so he never fails to surprise his people by organizing so many events and inviting very famous celebrities. He also has given the facility of free WiFi to his students because as we mentioned, he knows his people and understands their requirements. The institute is always all over the media for their involvement in activities which is equally important as studies are. He understands and cares about his students and knows the amount of pressure they have and so he never backs down from doing anything to make them feel at home!