Nellai Private Finance Company Mega Fraud; Public request to collector to freeze properties..!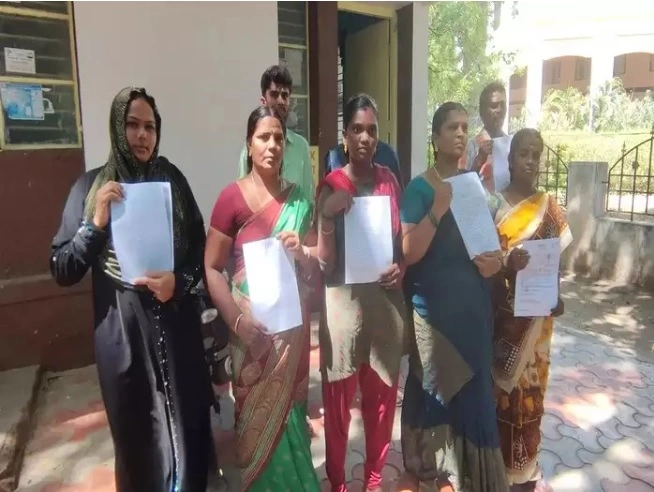 The affected people have complained to the District Collector that action should be taken to freeze the assets of the persons who ran a private finance company and scammed jewelery in Nellai.
Nellai Private Finance Company Mega Fraud:
No action has been taken even after several days of filing a case against the persons who ran a private finance company and cheated the gold jewellery. There was a commotion when the disappointed people who pawned their gold jewelery in a private financial institution in Sivanthipuram of Nellai district filed a complaint in the district collector's office, claiming that the property of the accused persons should be frozen and their gold jewelery should be returned.
Arun Thomas (age 37) was running a private finance company called Aishwarya in Sivanthipuram area near Ambai in Nellai district. Meenakshi Sundaram's wife Durga Devi (37) of Ambai Subramaniapuram Pothai area has pawned her 205 gram jewel. It is said that when the principal and interest were paid to the pawn shop, they did not give the jewel for a long time.
Case registered against 7 people:
Durga Devi filed a complaint at Wickramasinghapuram police station. Following this, Inspector Sujith Anand registered a case and investigated the matter on May 25. Subsequently, a case was registered against Arun Thomas, his brothers Arun Prabhakaran, Arun Prasad Ruban and his mother Jayanthi, his younger sister Anbu Sundari, Arun Thomas' wife Sharmi Anusiya, and pawn shop manager Manikandan and arrested Arun Thomas, Arun Prabhakaran and Jayanti. they did. Police are looking for the other 4 people.
In this situation, it seems that a complaint has been filed against the same person at various police stations including Kallidaikurichi Alwarkurichi Mukodal and a First Information Report has been registered. Meanwhile, the other persons involved in this incident have not been arrested yet and nothing has been found for their gold jewellery. More than ten people who had pledged money in a private financial institution met the District Collector of Nella and filed a petition demanding that the assets of the arrested persons be frozen and the jewelries that they had pledged should be returned.
Following this, they told reporters that they belonged to a middle-class family and used only gold jewelery to meet their needs. After pledging small amounts of money to meet their needs by pledging it and paying back the principal and interest, even after filing a complaint and filing a case against those who dragged away the gold jewelry without giving it back, many people involved in this favor are walking around without being arrested and have committed several lakhs of fraud.
They said in the complaint that these persons should be immediately arrested and their assets should be frozen and steps should be taken to recover their jewellery.