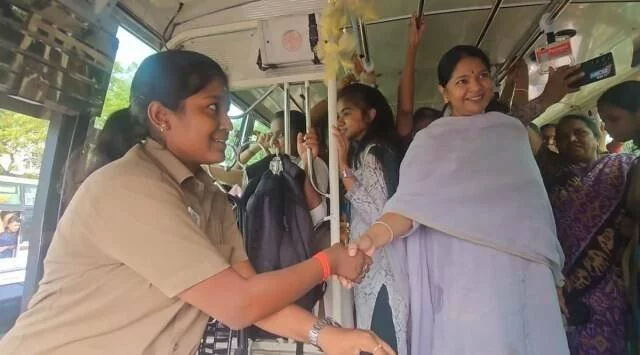 The owner of the bus service in Tamil Nadu's Coimbatore asked the driver to resign shortly after DMK MP Kanimozhi felicitated her today.
Hours after DMK MP Kanimozhi felicitated a woman bus driver in Tamil Nadu's Coimbatore, she was sacked from her job for allegedly 'inviting celebrities for her publicity'.
On Friday, DMK MP and party deputy general secretary Kanimozhi on Friday travelled on a private bus from Gandhipuram to Peelamedu driven by 23-year-old Sharmila to appreciate her skills and courage.
The MP gifted Sharmila a watch in the presence of Sharmila's father, who is also a driver.
However, shortly after this, Sharmila claimed the owner of the bus relieved her from the job when she went to complain about a trainee bus conductor, also a woman, who purportedly spoke rudely with Kanimozhi when she was on the bus.
According to Sharmila, the owner of the bus told her that she was bringing famous people for her publicity and asked her to leave. The manager also spoke rudely to her father, Sharmila claimed.
The owner, however, denied removing Sharmila from the job.
Speaking about travelling on a bus driven by a woman, Kanimozhi said: "Generally, when we say that women and men are equal, some ask can a woman drive a bus or a lorry. Today a woman has shown that she can drive a bus. It's a very happy thing and sends out a message to other women that they can do any job. When I spoke to her over the phone earlier, she asked me to travel on the bus she drives whenever I come to Coimbatore. That's why, now that I am here, I travelled on the bus with her," Kanimozhi told reporters.
Sharmila, too, expressed her happiness. "I couldn't speak much to Kanimozhi ma'am when she was on the bus. The bus stopped at Peelamedu and she spoke to me after that. She even hugged me and assured me of her support. I feel very happy and proud. She also gave me a gift," she said.
A few days ago, Coimbatore (South) BJP MLA Vanati Sreenivasan had also travelled on the bus driven by Sharmila.