Heavy Rainfall Sweeps Southern Districts: Updates on Rainfall in Various Regions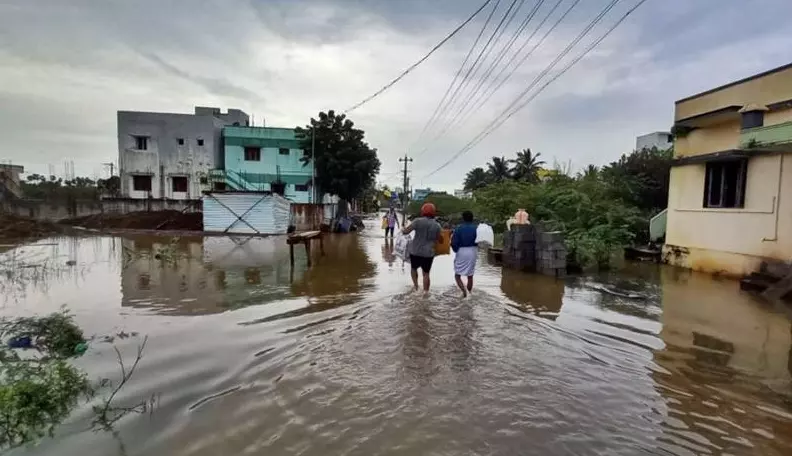 In the wake of the northeast monsoon, several districts in southern India have experienced significant rainfall, with Thoothukudi, Tenkasi, and Kanniyakumari being among the most affected areas. While Thoothukudi, known for its industrial significance, recorded varying amounts of rain, places in the Western Ghats such as Maanjolai, Naalumukku, Ooththu, Cheranmahadevi, and Ambasamudram taluks have seen substantial rainfall.
Rainfall Statistics
In Tirunelveli district, some areas like Ambasamudram and Cheranmahadevi witnessed 60 mm and 75 mm of rainfall respectively, whereas other regions received only trivial amounts. The water levels in Papanasam and Manimuthar dams have increased due to the rainfall, although Vadakku Pachchaiyar dam's water level remains significantly lower due to inadequate catchment area rainfall.
In Thoothukudi district, northern and north-western parts, including Ottapidaaram, Ettaiyapuram, Kovilpatti, Kayathar, and Kazhgumalai, experienced substantial rainfall. Thoothukudi town saw rainwater stagnation in various areas, promptly addressed by the Corporation personnel.
Floods in Courtallam and Overflowing Irrigation Tanks in Kanniyakumari
Courtallam in Tenkasi district faced floods in its waterfalls, temporarily disrupting visitor access. Meanwhile, Kanniyakumari district witnessed heavy rainfall, causing overflowing in more than 2,000 irrigation tanks. The catchment areas of Petchipaarai, Chittar I and II, and Maambazhathuraiyar dams experienced significant downpour, leading to swelling of Kothaiyar, Valliyar, Palaniyaaru, and Palaiyaar rivers. A breach in the Puththanar channel resulted in submerged cultivable lands, causing minor damages to houses in Thiruvattar and Killiyoor taluks.
Rainfall Data for Various Regions
Thoothukudi District (in mm): Ottapidaaram 92, Kovilpatti 76, Kazhugumalai 56, Kayathar 77, Kadambur 72, Ettaiyapuram 69, Vilaathikulam 15, etc.
Tirunelveli District (in mm): Ambasamudram 60, Cheranmahadevi 75, Manimuthar 19, Nanguneri 5, Palayamkottai 10, Papanasam 9, Radhapuram 7, etc.
Kanniyakumari District (in mm): Chittar I 93, Chittar II 122, Maambazhathuraiyar 95, Aanaikidangu 94, Petchipaarai dam 88, Kozhiporevilai 78, etc.
The ongoing rainfall highlights the region's vulnerability and the importance of efficient drainage systems to manage water flow during heavy downpours. Stay updated for more information on weather conditions and preparedness measures in these areas.