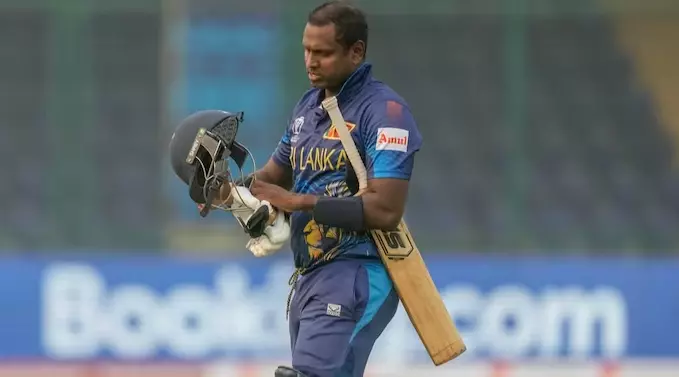 In a heartwarming and light-hearted incident on the field, New Zealand captain Kane Williamson and seasoned Sri Lankan all-rounder Angelo Mathews shared a humorous exchange during their encounter in the ICC Men's Cricket World Cup 2023 at the M Chinnaswamy Stadium in Bengaluru. The incident occurred just days after Mathews faced the unfortunate fate of being timed out, making him the first player in international cricket to experience this unusual dismissal.
As Mathews walked in to bat during the ninth over after Sri Lanka lost the wicket of Charith Asalanka, Williamson and his teammate Trent Boult greeted him with smiles. During the friendly banter, Williamson playfully gestured to Mathews to check his helmet's strap, sparking a moment of camaraderie between the players.
In Sri Lanka's previous match against Bangladesh, Mathews faced a controversial timed out dismissal. He was dismissed without facing a single delivery due to an issue with his helmet's strap, which prevented him from taking his position at the crease within the stipulated time. Bangladesh players appealed, leading to a discussion between the on-field umpires Marais Erasmus and Richard Illingworth. Ultimately, Mathews was asked to leave the field, leading to a passionate debate between the player and the umpires.
Returning to the field against New Zealand, Mathews found support in the form of a light-hearted jest from Williamson, demonstrating the sportsmanship and camaraderie that make cricket a beloved sport worldwide. Despite the tensions of the ongoing World Cup, moments like these serve as reminders of the spirit of unity and respect that define the game.