Train comes to halt after passenger suffers rat bite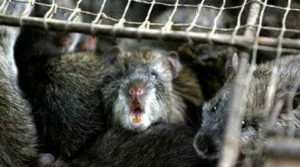 A Tirunelveli-bound express train had to halt for about half-an-hour at Madurai junction after a 54-year-old passenger was bitten by a rat.
Charles, travelling by Chennai-Tirunelveli Nellai Express, woke up from sleep with a scream as he was bitten by the rat on the ear around 4.30 am when the train was nearing Madurai, about 150 km from here, Railway police said.
When the train reached Madurai around 5 am, doctors, who had been informed about the incident, gave medical treatment to the passenger, police said.
The train left Madurai after half-an-hour.
Local Railway Users Association functionary Kesavan said a number of complaints had been lodged with the officials regarding the rat menace in the trains from Tirunelveli and neighbouring Kanyakumari.
Though officials were taking action from time to time, the problem recurred as the passengers also left eatables in the train, attracting the rodents, he said.
Incidentally, Southern Railway General Manager Rakesh Misra had on June 13 said that complaints about rat and bed bug had come down to almost nil during the current year due to the efforts taken by the railways.