Eleven killed, 20 injured in bus accident near Tirunelveli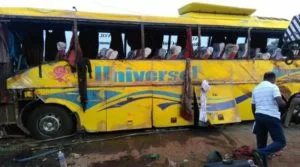 Eleven people including two children were killed while at least 20 others were injured when the driver of a private bus they were travelling in lost control resulting in the bus overturning near South Valliyur, 40 kilometres from Tirunelveli town in Tamil Nadu.
M Karunakaran, district collector of Tirunelveli said the accident happened at around 5.30 am today morning.
"Initial reports say that the accident happened when the driver suddenly turned the bus to avoid hitting a water tank after he lost control. The bus was coming from Karaikal and most of them were travelling to Thiruvananthapuram. We are just confirming the death of 11 people. All injured had been shifted to Nagercoil Medical College," he said.
According to police, about 38 passengers were travelling in the bus, some are critical. "More number of doctors and officials are being deployed at the medical college hospital," said the officer.