Northeast monsoon in State will bring 12% excess rainfall this year: IMD official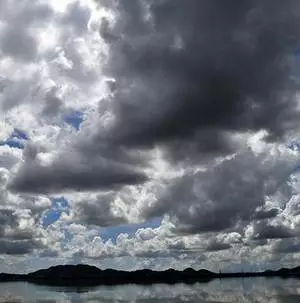 'Weak southwest monsoon seen working in Tamil Nadu 's favour'
During the coming northeast monsoon, the State is likely to experience rainfall which will be 12% higher than the normal, S. Balachandran, Deputy Director General of Meteorology, Chennai, said. The long period average for the State was pegged at 44 cm based on the data between 1951-2000, he added. Normally, the northeast monsoon sets in around October 20.
The onset depends on the complete withdrawal of the southwest monsoon, which is withdrawing slowly and may withdraw from other regions like Madhya Pradesh and Maharashtra in the next two or three days. However, the onset date of monsoon alone does not determine the volume of rainfall as it is volatile in nature, say Met officials. The IMD had announced that the southwest monsoon ended with 9% deficit across the country. Weather experts note that a weak southwest monsoon is often associated with a favourable northeast monsoon over the State.
Citing the consensus forecast outlook of the South Asian Climate Outlook Forum, weather expert Y.E.A. Raj said north coastal Tamil Nadu was likely to experience 50-60% above-normal rainfall during the oncoming monsoon.
However, south coastal regions may witness below-average rains during the period. The southern oscillation, another global weather phenomenon, is also slightly favouring the performance of the northeast monsoon this time.
Mr. Raj said the State had had good rainfall during the northeast monsoon in the years when the southwest monsoon ended with a slight deficit of up to 10% like in 2018. Going by the data for the past 100 years, the northeast monsoon has been either above normal or excess on most of the years when the southwest monsoon ended with a deficit of 5 to 10%. Mahesh Palawat, vice president, Meteorology and Climate Change, Skymet Weather, a private weather agency, said an evolving El-Nino — a global weather phenomenon — might also favour the monsoon rains from November. The State had had a good northeast monsoon during most of the El-Nino years, he added.
Meanwhile, the State would have wait till October 5 for better prospects of widespread rainfall. A feeble trough that is likely to develop into a low pressure area may bring moderate rainfall in many areas, note meteorologists.
Until then, areas experiencing a relatively hot weather particularly interior Tamil Nadu, may get only patchy rains. A trough running from southwest Bay of Bengal to Maharashtra through Tamil Nadu may bring thundershowers or rains in few places till Wednesday. Chennaiites may expect light rains in some areas till Wednesday.