Political parties paid tribute to Phulidevan's portrait by garlanding it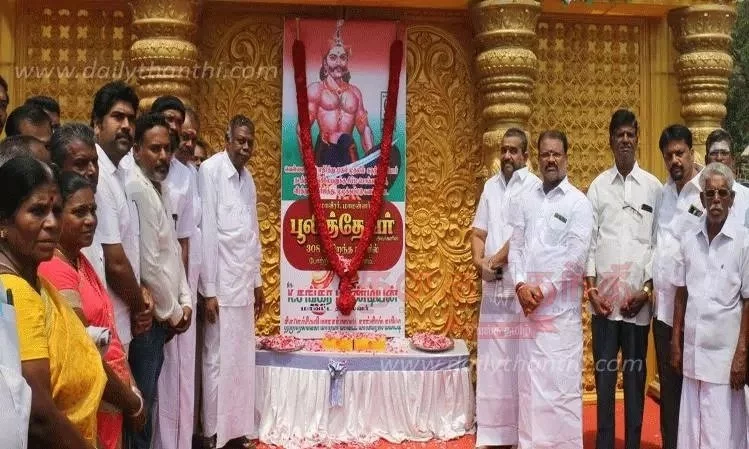 Political parties garlanded and showered flowers on the portrait of Phulidevan in Nellai.
Tirunelveli: The birth anniversary of the freedom fighter king Pulithevan was celebrated yesterday. On this occasion, Pulithevan's portrait was decorated at various places in Nellai. Nellai Central District DMK They paid respects to the portrait of Phulidevan in the office by garlanding and sprinkling flowers under the leadership of district in-charge DPM Maithinkhan. Mayor P. M. Saravanan, Joint Secretary Malaraja of Trade Team, State Deputy Organizer of Women's Volunteer Team Vijila Satyanand, Municipal Organizer of Youth Team Karupasamy Kothiyappan and many others participated in the event.
In front of the Congress party office in Kokrakulam, a portrait of Phulidevan was decorated. The program held there was presided over by Nellai Metropolitan District President Shankarapandian. Former Union Minister R. Dhanushkodi Adithan paid floral tributes.
And for the portrait of Bhulythevan in front of the Congress office, Abdulwagab MLA, Palayamgottai Mandal President Francis. Union Muslim League of India District President Meeran Maiden and Vimithya Sirutha Party executive Karisal Suresh also paid floral tributes. Alankulam Union Councilor Muraliraja, Congress State General Committee Member Udayakumar, District General Committee Secretary Mahendran and many others participated in the event.
The portrait of Pulithevan, which was decorated in Palayangot Maharaja Nagar, was paid homage by garlanding under the leadership of District President of Tamil Nadu People's Munnetra Kazhagam Kanmani Maveeran. Advocate Sudarsan, in-charge of the Tamil Sandor Board, presided. Tamil Nadu People's Democratic Party State Secretary Umar Farooq, Regional Secretary Vakil Abdul Jabbar, District Secretary Jamal, Maveeran Sundaralinganar People's Movement President Mariyappa Pandian, Pratachi Bharatham District Secretary Nelson, Devendrakula People's Development Council South Zone Secretary Mangalaraj Pandian, Social activist Bullet Raja, Congress Trade Team M .A. Xavier among others participated. In the event, sugar pongal was distributed to all the public.
On behalf of the Hindu People's Party, a portrait of Phulidevan was decorated near the flyover at Nellai junction Kailasapuram Erudku. There, under the leadership of the district president of the party Mariyappan, garlands were placed and flowers were paid to the picture of Phoolithevan. Sweets were also distributed to the public. Balayangottai Constituency Secretary Ravi, Nanguneri Constituency Secretary Arumuga Kumar, Municipal President Kannan, District General Secretary Srinivasan and others participated in the event.