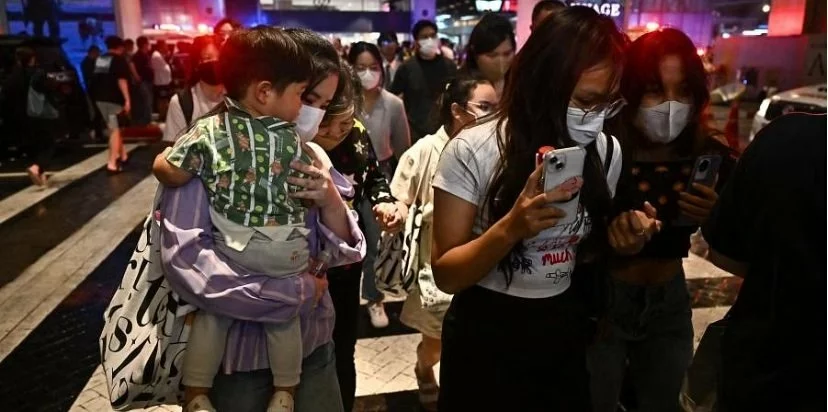 Witnesses told AFP of chaotic scenes as shots rang out at the upmarket Siam Paragon mall in the heart of the Thai capital around 4:30 pm (0930 GMT).
BANGKOK: A 14-year-old boy was arrested Tuesday after a shooting at a packed Bangkok mall that left two people dead and five wounded, and sent hundreds of panicked shoppers running in terror into the streets.
Witnesses told AFP of chaotic scenes as shots rang out at the upmarket Siam Paragon mall in the heart of the Thai capital around 4:30 pm (0930 GMT).
The shooting comes just days before the first anniversary of the deadliest massacre in modern Thai history, when an ex-policeman armed with a gun and knife attacked a nursery in the country's north, murdering 24 children and 12 adults.
National Police Chief Torsak Sukwimol told reporters that two women — one Chinese, one from Myanmar — were killed in the mall shooting, and five other people wounded.
He said the 14-year-old suspect was in custody but was too confused to undergo questioning.
"He is a mental patient at Rajavithi hospital and he has not been taking his medication," Torsak said.
"He said it felt like someone told him to 'go shoot people'. It's like there's another him. This is what we got from the initial talk with him."
Video footage showed a long-haired boy wearing a black shirt, glasses and a cap with a US flag motif being taken into custody by police.
Yuthana Srettanan, director of the Erawan Emergency Centre, told reporters that all but one of those who were shot were women.
Prime Minister Srettha Thavisin visited the scene of the shooting as well as calling on the wounded in hospital.
Srettha posted on X, formerly Twitter, that he had spoken to the Chinese ambassador and offered condolences.
"From now on, the Thai government will implement the highest safety measures for the safety of all tourists," Srettha wrote.
Thailand is keen to attract more Chinese visitors as it rebuilds its tourism industry after the pandemic, but numbers are lower than hoped, partly because of safety fears.
A private school called The Essence, just metres from Siam Paragon, confirmed the suspect was one of their students and offered condolences to the victims' families.
"We will collaborate with the authorities and investigators for the benefit of those involved," Wiwat Catithammanit, director of the $4,000-a-term school said in a statement.
'Multiple gunshots'
Witnesses described scenes of panic as the attack unfolded at Siam Paragon, one of Bangkok's top shopping destinations, hugely popular with tourists and Thais alike.
"At around 4:30 pm, I heard loud gun noises, continuously, about 10 times," Thanpawasit Singthongkham, 31, who works at a Japanese restaurant in the mall, told AFP.
"Then the department store announced that there was a shooting. The emergency sign was turned on and everyone ran to get out."
In footage shared with AFP, he recorded a scrum of terrified shoppers scrabbling under metal security gates blocking shop entrances, before they fled down emergency stairwells as sirens blared.
In another video, shared on Facebook and verified by AFP, scores of people can be seen in the mall's basement car park being directed by loudspeakers.
Dozens of police vehicles and a number of ambulances could be seen outside one of the shopping centre's main entrances in the wake of the shooting.
"I heard multiple gunshots — about three times — and saw people running around towards the exits," Nattanon Dungsunenarn, who was shopping in a branch of Boots pharmacy, told AFP.
"It was very chaotic and seemed like many people didn't know what exactly was going on."
'Terrified'
"We didn't know what was happening, then staff from a shop asked us to go inside and said there was a shooter," Chinese tourist Xiong Ying, 41, told AFP.
"Everyone was trying to find a place to hide. So many people were terrified, just like a scene in the zombie movies.
"I now feel quite scared. It happened just like two minutes after we left by crossing the bridge. We even took photos there."
Almost a year on from the October 6 nursery massacre, the mall shooting will raise fresh questions about gun control in Thailand, which has one of the highest rates of firearm ownership in the region.
In 2020, a former army officer went on a rampage in a shopping mall in Korat, murdering 29 people and wounding scores more.