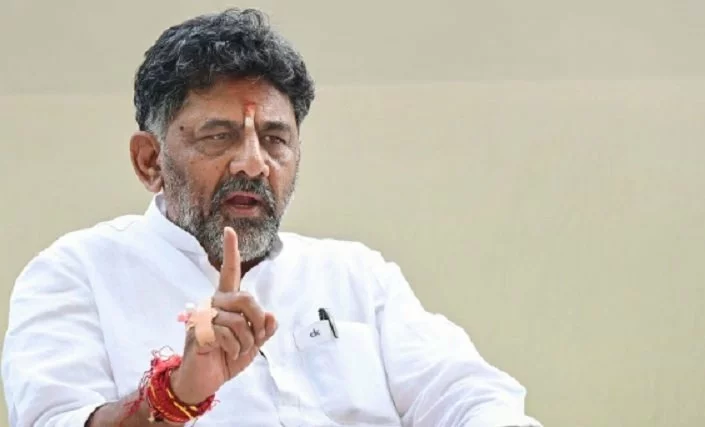 DK Shivakumar said that Karnataka's water resources are scarce and the government is actively engaged in addressing this complex issue
Karnataka deputy chief minister, DK Shivakumar, on Tuesday said that the state government has resolved to release 10 thousand million cubic feet (TMC) of Cauvery river water to Tamil Nadu while expressing concerns on the dire water shortage situation faced by Karnataka's own farmers.
"While Karnataka's water resources are scarce, we have taken the decision to allocate 10 TMC of Cauvery water to Tamil Nadu. We are actively engaged in addressing this complex issue," Shivakumar said during a press briefing.
The Tamil Nadu government on Friday approached the Supreme Court to seek recourse for getting Cauvery water. They contended that Karnataka has revised its stance and is now proposing a reduced allotment of 8,000 cubic feet per second (cusecs).
Observing that there was no reason to worry as the releasing of water is now in the hands of the Cauvery Water Management Authority, Shivakumar said that it's the government's duty to save farmers from both states. "There's no need for alarm. I implore Tamil Nadu to collaborate based on facts. Let's prevent hardship for each other's farmers. Our aim is to avoid conflict. We share a fraternal relationship," Shivakumar said.
In response to the possibility of Tamil Nadu's legal action, Shivakumar indicated plans to consult legal experts and advocates within Karnataka before deciding the subsequent course of action. However, he added: "We remain open to dialogue. We seek cooperation, not confrontation."
The Tamil Nadu government on Monday moved the Supreme Court seeking a direction to Karnataka to forthwith release 24,000 cusecs of Cauvery water from its reservoirs, at Biligundlu for the remaining period of the month, starting from August 14. The state said the release of water is a dire necessity to meet the pressing demands of the standing crops.
Tamil Nadu water resources minister, Duraimurugan, earlier accused Karnataka of reluctance in sharing water with Tamil Nadu, despite having water resources at its disposal. This perspective has persisted since the inception of the Cauvery river dispute several decades ago.
Shivakumar also made a plea to Tamil Nadu, expressing the potential benefits of the Mekedatu project in augmenting water availability during periods of rainfall deficit. He encouraged cooperation in implementing this project to mitigate water-related challenges.
Shivakumar also urged Tamil Nadu to consider the significance of the Mekedatu project in addressing their water needs during periods of rainfall scarcity. He emphasised the importance of collaborative efforts towards the successful execution of this project.
Shivakumar emphasised that water distribution should not be a contentious issue and assured that water would be supplied in the event of sufficient rainfall. He pointed out that in the previous instance, a substantial 400 TMC of water was allowed to flow into the sea, underscoring the need to avoid such wastage.
"Mekedatu project will help in providing water to Tamil Nadu at such a time when the rains have stopped and they should cooperate in implementing this project," he said.